Altbier, a tradition so old it evolved in Neanderthal man's home town of Düsseldorf
in North-Rhine-Westphalia.
The "brewery in the little fox" represents the finest example of Düsseldorf's classical brew culture.
1640
The first documentation of our brewery producing a popular ale "in the small Fox" as the alehouse was referred to in a time before civic numbers. This fox was carved out of one of the buildings main beams. The inscription could be interpreted as: As a beam I carried this house, for 400 years. Now as a creed I greet guests longing for beers.
seit 1640
Die Geschichte – Viel hat sich geändert seit 1640, aber unsere Brauerei und unser Füchschen Alt haben der Zeit getrotzt.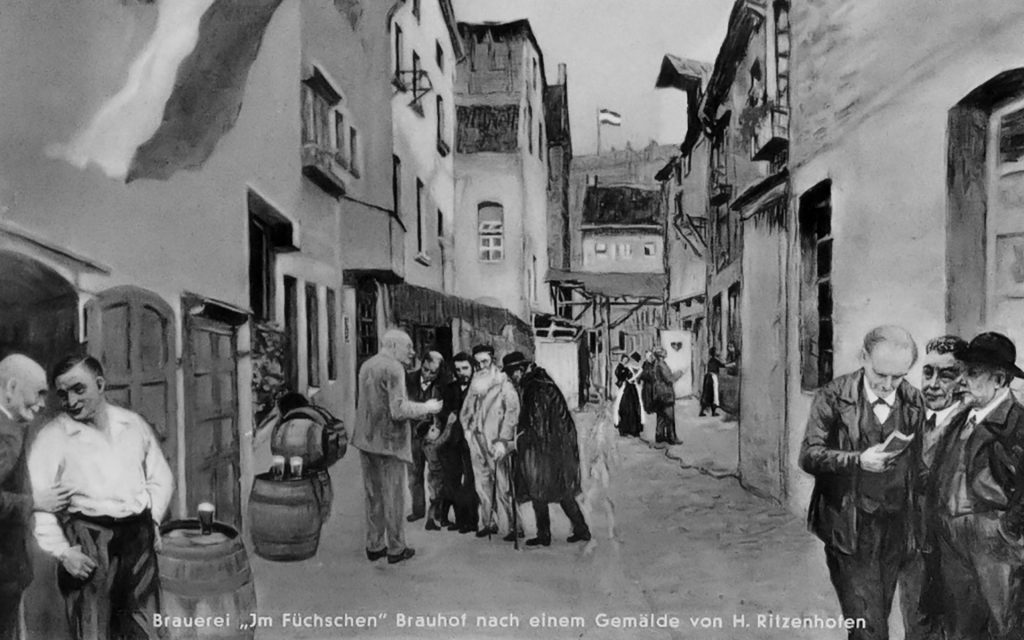 1848
The brewery on Ratinger Strasse officially becomes Füchschen Alt. A legend is born.
This picture shows the breweries entrance the way it looks since redecoration in the 1960's.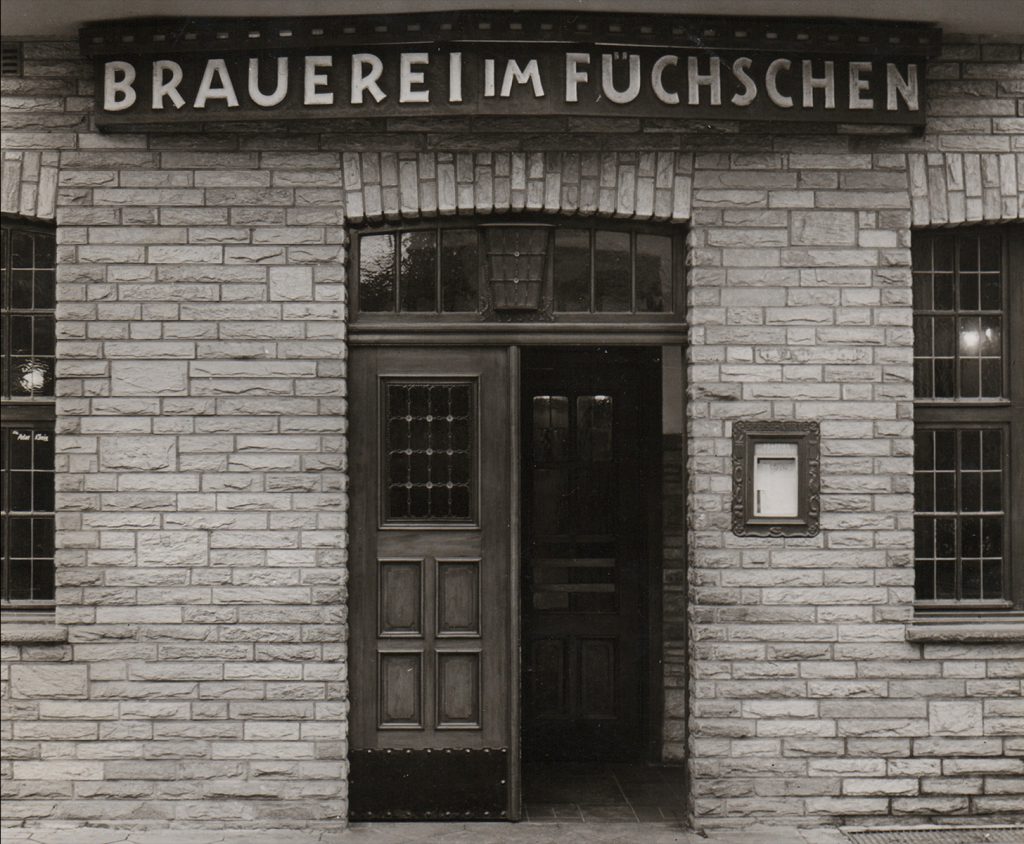 1908
Füchschen becomes royalty. Theodore and Louise König (German for King) purchased the brewery and began escalating to beer stardom. A fame interrupted by World War I a mere six years later.

1930
The König brothers re-open the brewery to preserve their late father Theodore's craft.
A return that also was unfortunately cut short six years later with the onset of yet another World War. A war that nearly demolished our brewery, prompting the brewers to seek shelter in the subterranean beer storage tanks.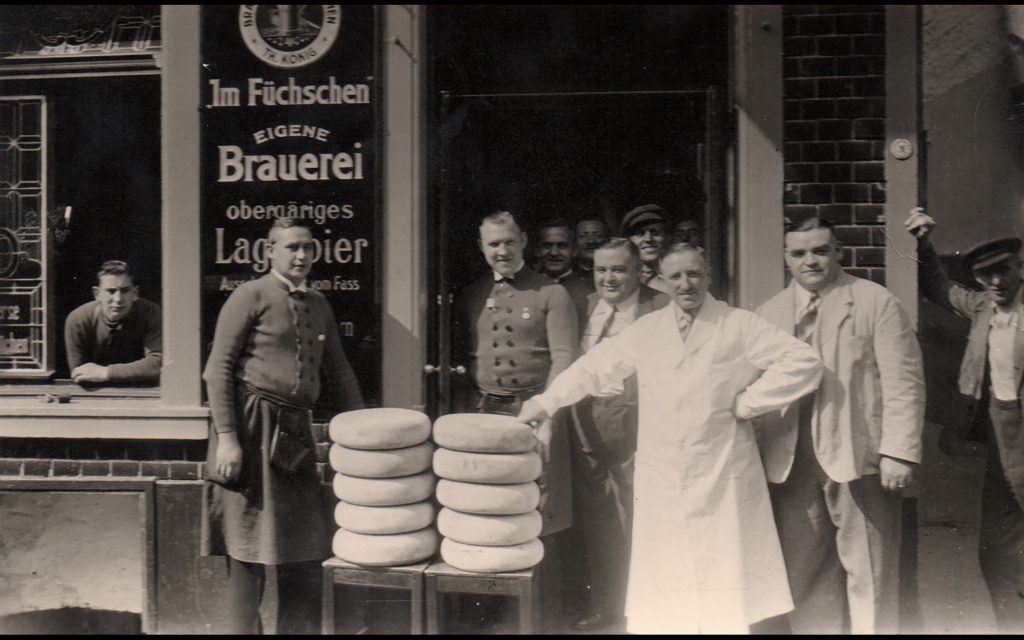 1943
Im Zweiten Weltkrieg wird die Brauerei allerdings durch Brandbomben vollständig zerstört.
Hier besichtigt Peter König (der Erste) nach dem Krieg mit seinem Architekten die Trümmer der Brauerei.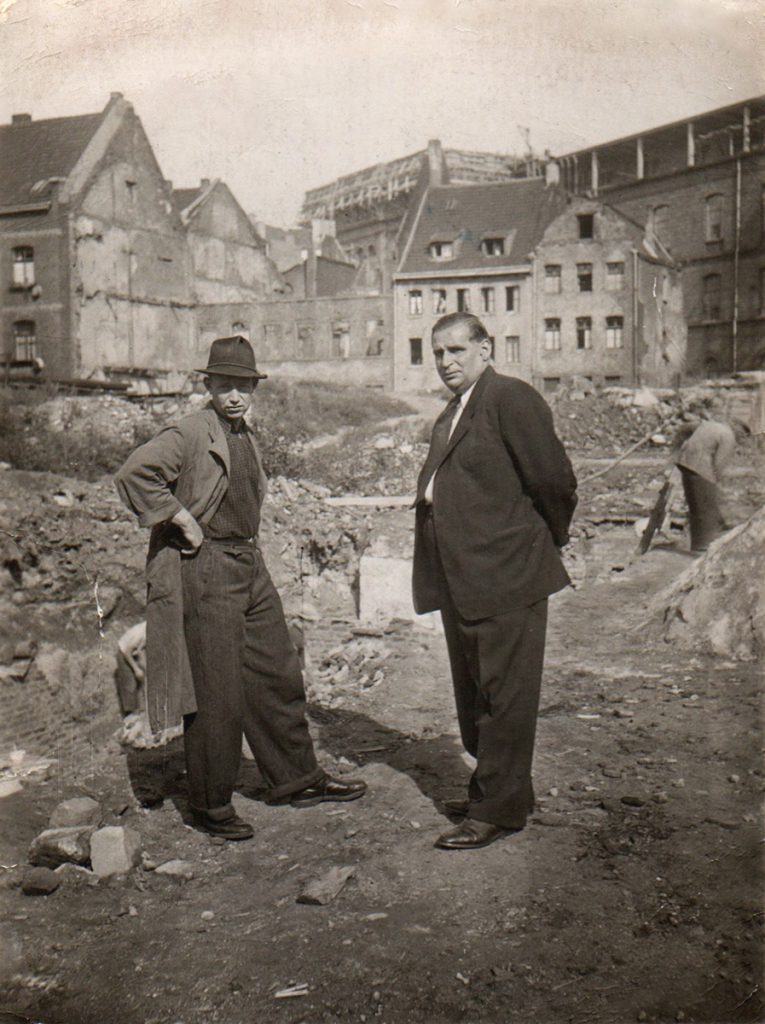 1950
Peter "Pitter" and Johanna König reopened the doors to the Füchschen Brewery and restaurant, creating a celebrated meeting spot that soon became one of the favorite hangouts in the city, drawing prominent artists such as Gustav Gündgens, Friedrich Karl Flick and Joseph Beuys from the nearby art academy.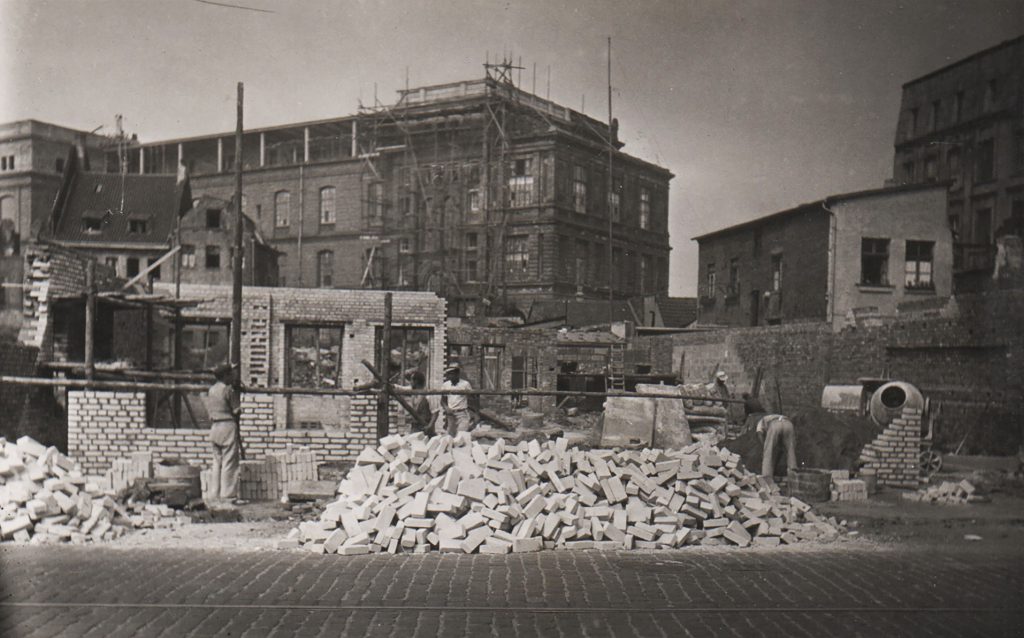 1972
Johanna König takes charge of the brewery with their son, also a Peter "Pitter" König,
after his father deceased. Pitter was a master Brewer and master Butcher. He was later known to keep staff and guests under control on rowdy nights from inside an old confession booth converted in to a cashier's booth.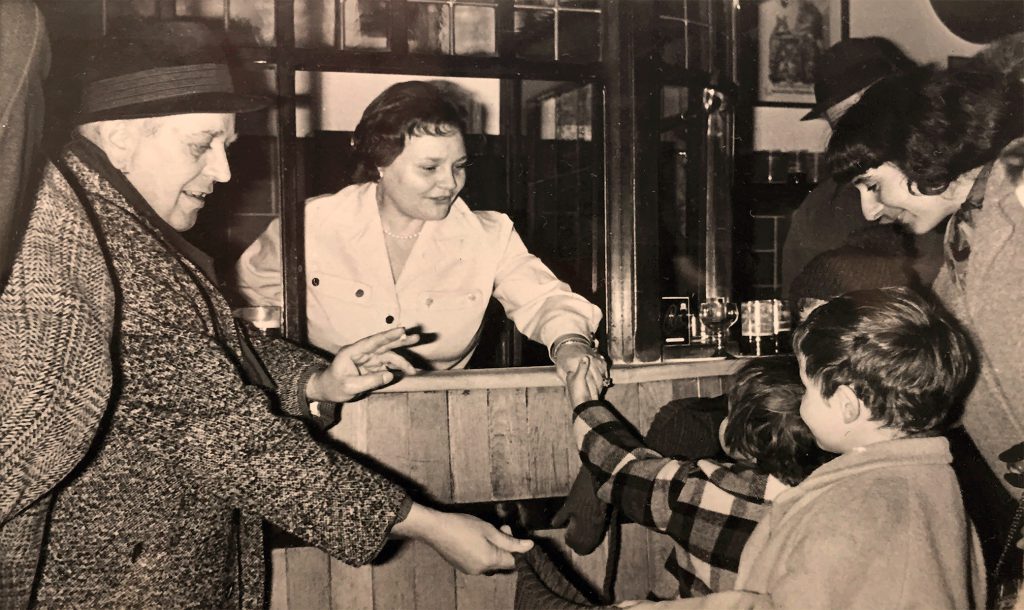 1990
Füchschen debuts at the Kirmes (funfair) in Düsseldorf, one of the biggest of it's kind in Germany. What started as a beer stall, quickly evolved to become the most popular party tent of the Kirmes.
Which is why we proudly call it the Kings Palace these days. Our cartoon fox figures have been there at the entrance from day one, and still are.

1995
The era of the current Peter "Pitter" König Jun. commences. An era of creative expansion.
Peter is a trained chef and beer brewer, and a natural party organizer.
Frank is THE beer geek. Together they elevate quality, size and popularity of the brewery and it's restaurant. The production of Füchschen Alt continues to grow by fanatical demand.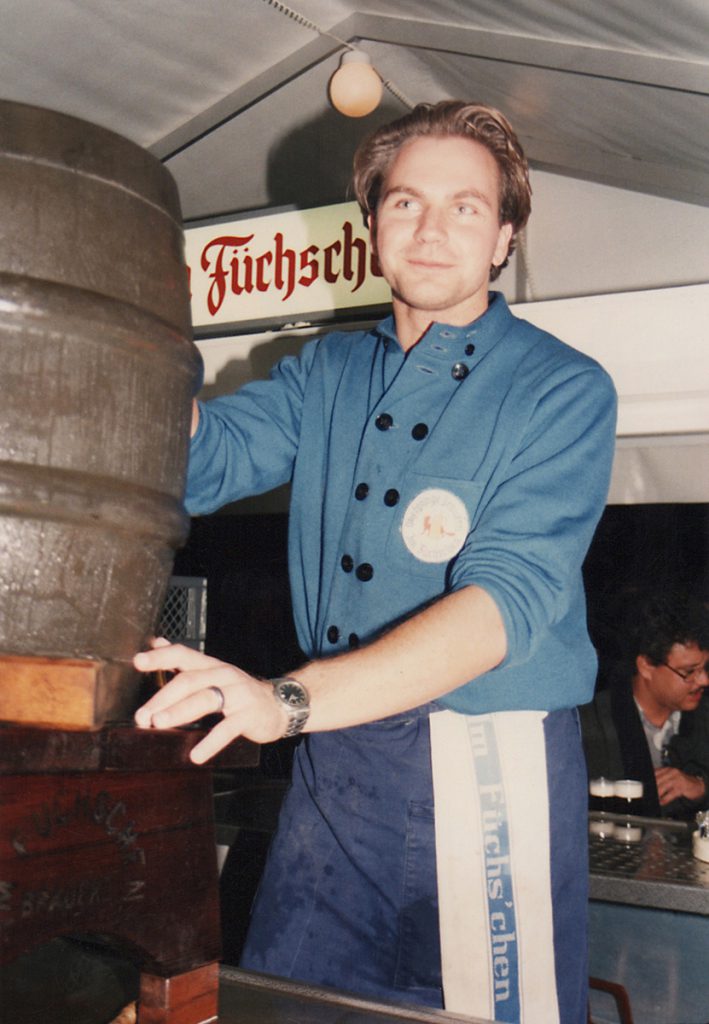 2006
Born out of the Füchschen figures in front of our party tent on the Kirmes, our ever-popular cartoon foxes rise to become a mascot of Füchschen in Düsseldorf.
The slightly smug foxes are being campaigned throughout the city on print ads, the breweries trucks and our party kegs.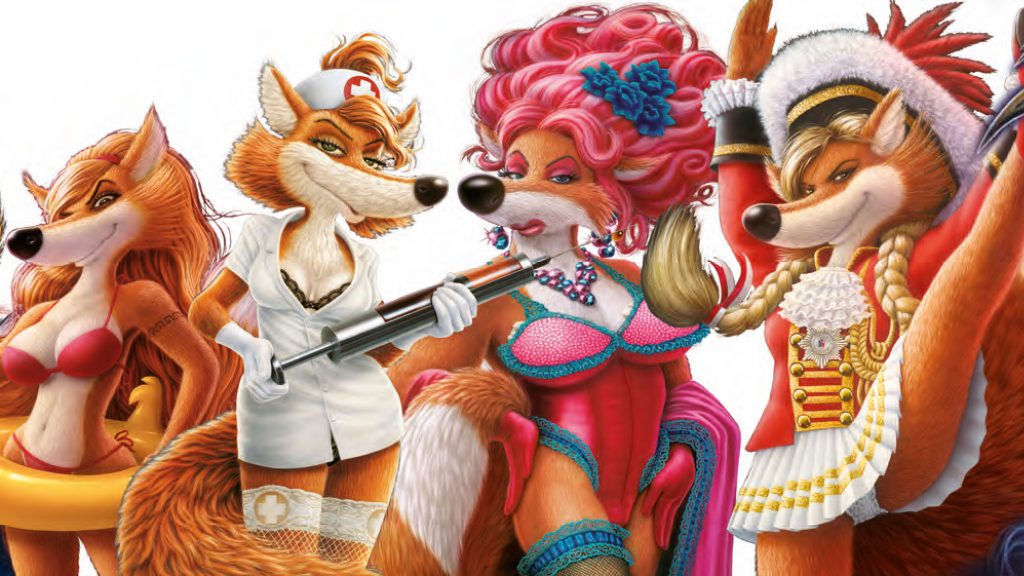 2009
Armie, a robotic arm with laser vision takes over the beer filling duties.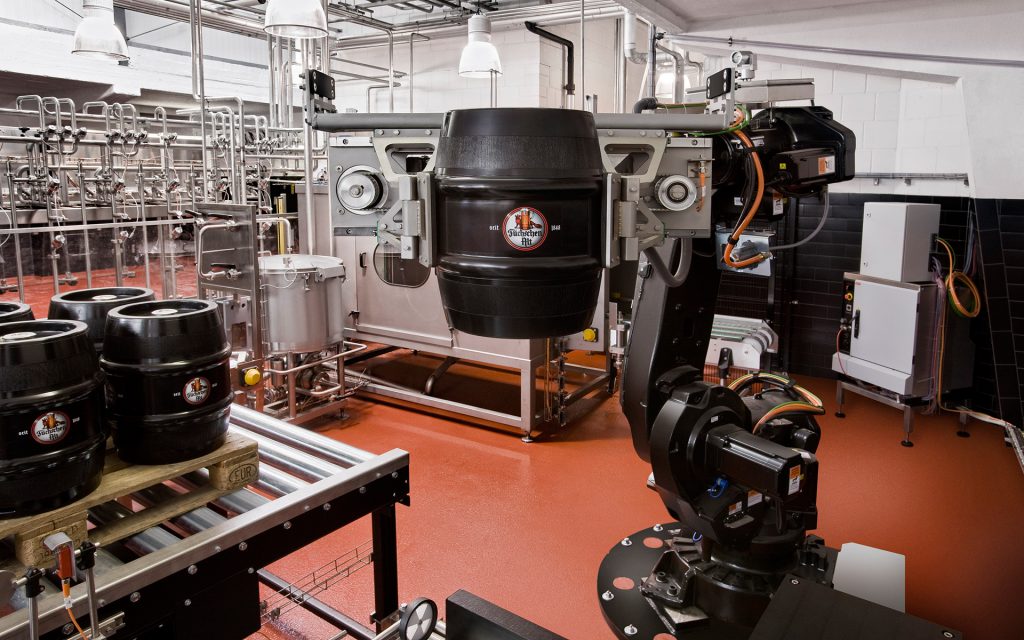 Familie König